Login
Log in if you have an account
Dont have an account? Register
Skateboard Hardware
You're gonna need bolts to hold that Skateboard together. The strongest skateboard hardware on the market is here. Diamond | Independent | Shortys | Enjoi and more
HOW LONG SHOULD MY HARDWARE BE?
Choosing the right bolts for your skateboard setup is super important. So, how long should your hardware be? Well, it needs to be long enough to go through both your deck and your truck baseplate. And there should be enough threads sticking out for the lock nut to fully thread onto the bolt. But don't go crazy with super long hardware, because it can be a pain to tighten the nut onto an extra-long bolt. Plus, sometimes the threads don't run the whole length of the bolt, which means you can't tighten them anyway. And let's face it, hardware that sticks out too much just looks goofy. 
It's okay if your hardware sticks out a bit, but try to keep the extra length under a quarter inch. Otherwise, you might run into trouble. If your hardware doesn't go all the way through to the top of the nut and sink into the "Nylon Lock" part of the nut, it's too small and will fall off in no time. So, when you're picking hardware, make sure you get the right length for your setup.
| WHEEL SIZE (MM) | RISER SIZE (IN) | STANDARD 7-PLY DECK HARDWARE SIZE (IN) | 8-PLY OR 9-PLY DECK (TYPICALLY LONGBOARDS) HARDWARE SIZE (IN) |
| --- | --- | --- | --- |
| 49 - 54 | NOT NECESSARY | 7/8 - 1 | 1 1/8 |
| 55 - 57 | 1/8 | 1 - 1 1/8 | 1 1/4 - 1 1/2 |
| 58 - 64 | 1/4 | 1 1/8 - 1 1/4 | 1 1/4 - 1 1/2 |
| 65 - 67 | 1/2 | 1 1/4 - 1 1/2 | 1 1/2 - 2 |
| 68+ | 1/2+ | 1 1/2+ | 2 |
---
WHAT TYPE OF HARDWARE SHOULD I USE?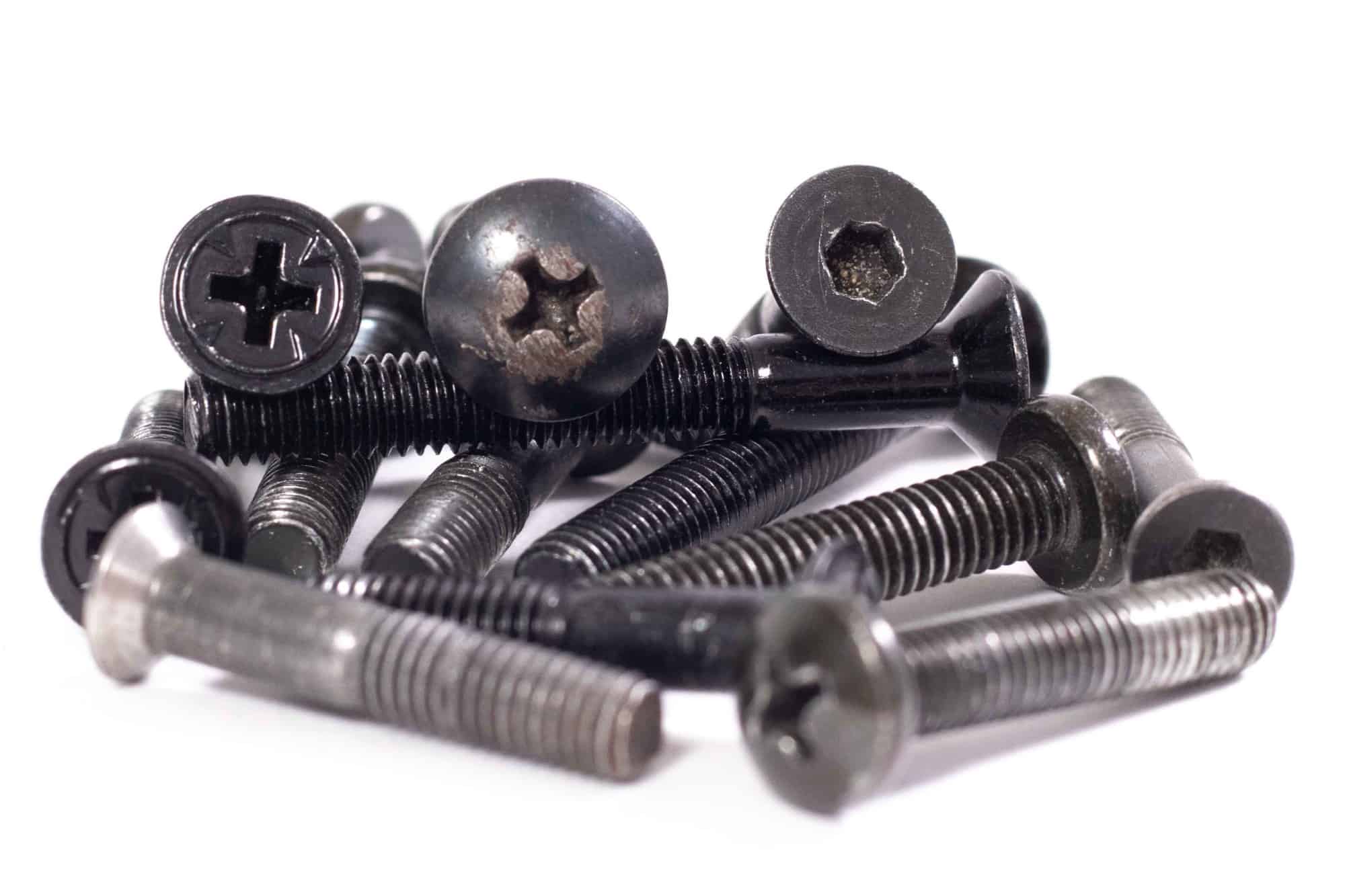 The type of hardware you choose for your skateboard can make a significant difference in how it performs. There are a few styles of hardware available, with the most common being phillips or allen-head. While they function in the same way, allen hardware requires a 1/8-inch allen wrench to tighten them properly. Most allen hardware sets come with the necessary wrench, so you won't need to worry about finding one separately. 
In addition to phillips and allen-head, there are also dome-shaped hardware options, which are sometimes called pan head, button head, or truss head hardware. However, it's important to note that these should only be used for longboards because they tend to create bumps that you can feel under your feet. This can impact your tricks and may cause discomfort if you land on them with a lot of force. 
Finally, it's worth mentioning that regular bolts from a hardware store are not recommended for skateboarding. These bolts are typically made of weaker metal alloys and are unable to withstand the lateral stresses that occur while skating. Therefore, it's essential to choose the appropriate hardware to ensure your skateboard performs optimally and stays safe to use.